Kitaizumi (Northern Fukushima Region) Surfing Info and Details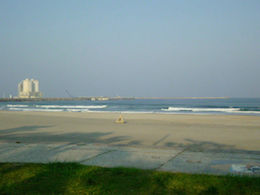 This is a popular surfing spot on the south side of Haramachi Thermal Power Station, where great waves suitable for surfing are available all year round.
When the swell is weak, it is a shallow beach that can be enjoyed by beginners, but when a strong east to south swell comes in, goofy waves break from along the bank, making it possible to ride long.
When it gets bigger, it becomes a surf spot for advanced surfers. Check the tide graph frequently to catch the rising tide from the middle tide.
Kitaizumi Surf Spot Map
Haramachi Ward, Minamisoma City
Kitaizumi Surf Spot Details
Difficulty : Beginner
Best Wave Size : 2ft~
Offshore Winds : West
Type of Wave : Beach break
Best Season : From spring to autumn
Parking Info : Parking lot, Toilet, Shower
Nearby Surf Spots
Check the swell and wind information in Fukushima
Swell and wind forecast for the next 24 hours
Other surf spots in Tohoku Region
Check out the photos from surf icon!