Izu Oshima Surf Spots
8 Selections of Surfing Spots in Izu Oshima
A little-known island near Tokyo as a surf trip destination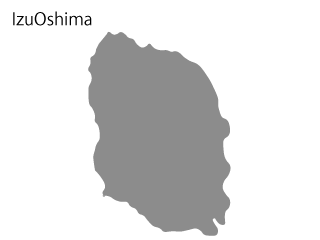 The black lava and black sandy beaches formed from the active volcano Mt. Mihara are worth a visit. The beauty of the water, the accessibility, and the quality of the waves are all excellent surf islands.
A variety of waves such as beaches and reefs will satisfy beginners and advanced surfers alike. It can be said that there are many hard bottoms and many points for advanced players. It reacts sensitively not only to typhoon swells but also to low pressure systems passing over the South Sea, and picks up south-southwest swells.
There are waves that you can enjoy all year round, but in the winter season to bring a 5mm full suit. We also recommend bringing leaf boots.
During a surf trip to Izu Oshima, actively communicate with the locals and get the latest wave information.
Boulder point break for advanced surfers of regular only.
A typhoon point that shows its true potential when the waves are usually hard to break and other spots start to close.
The waves that break compactly and neatly can be enjoyed by surfers of all levels.
It features a hollow leaf break wave.
Can enjoy Jibikihama from beginners, but be careful about the current.
Waves that beginners can enjoy. Winter is the main season.
A valuable point that beginners can enjoy at the beach break.
Access is bad, but if the sand bar is formed, good waves can be expected.